At Cambridge, we are not only concerned with what our clients aesthetically desire for their homes. We work diligently to provide efficient, durable and secure products that follow all measures necessary for consumers to be safe if any hazards arise. If a room of your home has a window, it is essential that it should adequately operate per specific guidelines.
Below are some of the measures and requirements that are needed to be included in the windows of your home.
Common Building-Code Violations: Emergency-Egress Windows Too Small
In the August/September 2002 issue of Fine Homebuilding, a building inspector reviews his list of top 10 building-code violations. In this sneak peek, a word about emergency-egress windows.
The one thing that inspectors never fail to check is the required emergency-egress window from a sleeping room. At least one window in each bedroom must be of sufficient size to permit the occupants to escape a fire and also to allow a fully outfitted firefighter to enter.
An egress window must satisfy all four International Residential Code (IRC) criteria:
Minimum width of opening: 20 in.
Minimum height of opening: 24 in.
Minimum net clear opening: 5.7 sq. ft. (5.0 sq. ft. for ground floor).
Maximum sill height above floor: 44 in.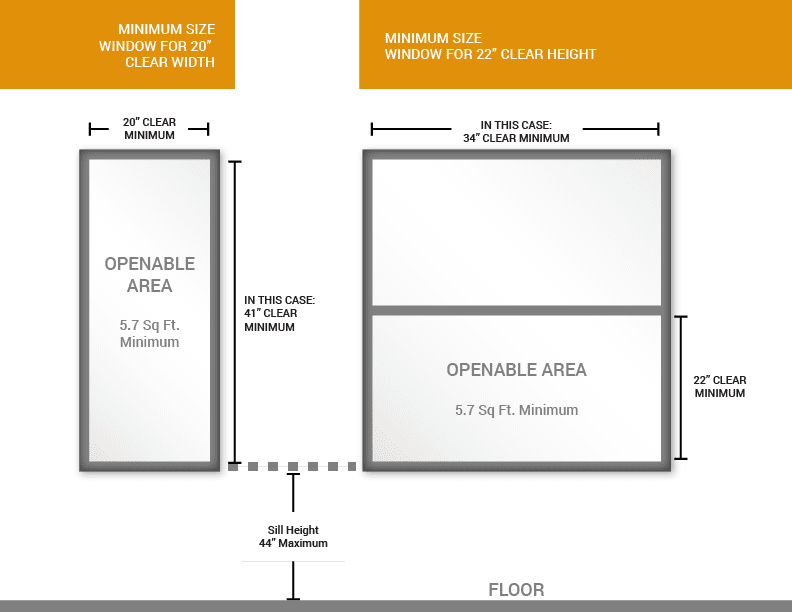 310.1 Emergency escape required.
Every sleeping room shall have at least one openable window or exterior door approved for emergency escape or rescue. The units must be operable from the inside to a full clear opening without the use of a key, tool or special knowledge. Where windows are provided as a means of escape or rescue, they shall have a sill height of not more than 44 inches above the floor. The net clear opening dimensions required by this section shall be obtained by the normal operation of the window from the inside. Escape or rescue windows with a finished sill height below the adjacent ground elevation shall be provided with a window well in accordance with Section 310.2
310.1.1 Minimum size.
All emergency escape or rescue windows from sleeping rooms shall have a minimum net clear opening of 7.7 square feet.
Exception: Grade-floor windows shall have a minimum net clear opening of 5 square feet.
310.1.2 Minimum opening height.
The minimum net clear opening height shall be 22 inches.
310.1.3 Minimum opening width.
The minimum net clear opening width shall be 20 inches.