Hand Built in Texas by Master Texas Craftsmen to Last
About "Cambridge" Custom Wood Doors
We build custom solid wood entry door units, room dividing doors, sidelights, transoms, office board-room doors, wine rooms, man cave doors, and dutch doors, etc. for residential homes & businesses. We specialize in building our custom solid wood doors, trim-millwork the old-fashioned way, by hand. Our wood is naturally air dried to create custom wood door designs that are built for life. Our handmade doors are built for Texans with mortise & tenon joinery for building construction that will stand the test of time. Enhance the beauty of your home's interior or exterior with hand-built entryways built by Texas master craftsmen and inspired by the history of my grandfather Marvin Henry.
Educating Our Customers on True Quality Craftsmanship
It is our experience when most people are shopping for wood entry doors, they seldom ask the "right" questions resulting in poor choices and loss of investment. Learning about important details such as the anatomy of a door helps our customers to better understand the different between our master handcrafted custom entrances, and cheap imitations that are sold by Home Builders, Contractors, & the big box stores. We here at Cambridge Doors & Windows and staff take "BIG" pride in educating every one of our customers with full transparency, correct information, and sources allowing the facts about how each product is made to be evaluated with no sales hype. The fact is in todays world here in the Houston, Texas area most all doors are made from lightweight wood, engineered glued together pieces of softwood with very thin 3/32" – 1/8" thick sheets of laminated wood so it can be claimed as a wood door. There is a market for those customers for who want a low-cost door system, fact is you cannot customize that kind of door. All the builders have been using cheap engineered softwood doors and cheap builders grade windows for the past 25 years to keep cost down and put more money in their pockets.
High Quality Doors Are Not Made from Cheap Materials
All high quality, handmade, solid wood products are never pre-made fast process stapled, glued, thin veneers or soft mystery wood. The best wood furnishings are made from natural air dried, solid furniture quality wood handmade by a skilled master craftsman using age old tried, tested mortis, tenon joints, pegged and doweled methods, using several process hand finishes that are not just sprayed on. Handcrafted wood furniture grade solid wood doors and trim-millwork are built to last much longer than any other door you can purchase. Cambridge is replacing old worn out cheap Builders grade doors every week with our high-quality solid wood custom doors and adding so much more security than any builders grade steel, wood, or fiberglass door unit installed today. Any builders grade door can be comprised and broken into as little as 2-8 seconds. Majority of our customers in the past 15 years that bought our solid wood custom doors are looking more for security, durability, sizes, styles, shapes, staining colors, and longevity of their purchase.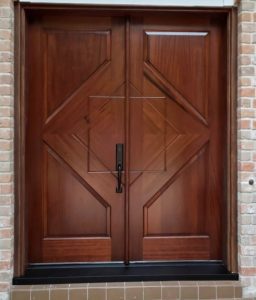 Hand built in the USA to stand the test of time. Not your ordinary front door. Built from thick, solid natural hardwood, with forged wrought iron grills, huge glass selection, and door hardware.
Handcrafted Solid Wood Door Units
When purchasing new solid wood doors, sidelights, transom, millwork-trim, replacement windows, etc. you should always question the product materials & values, not just the pretty designs. Finding out how it's made – the raw materials it's made from – makes all the difference in determining the value regarding how long your new products will last, and how much maintenance will be necessary on your part to ensure its longevity. Call Cambridge Doors & Windows when nothing but the best will do!