Is your door sticking or hard to open & close but your door is still in good shape?
Don't wait for someone to trip over your old worn out entryway to revamp your front or backdoor. Call now to professionally install new door weather-stripping, threshold, hardware, and sill cover in just a few hours.
An exterior threshold takes a lot of abuse from foot traffic, kids, pets, and weather—and it can only withstand so much. If your Builders-Grade Door, Threshold & Weather-Stripping is in rough shape, we can replace it. If your house has settled over the years due to our Houston area clay-gumbo soil and your doors are not opening or closing smoothly, we can re-work your old door to open like new again.
If you need or want to upgrade your doors we can do it too. We are a full Replacement Entry Door, Back Door, Storm Door, and French Patio Door company since 1976 and in the same location and phone number since 1986. Our showroom is located at 12999 Murphy Rd, D-1, Stafford, Tx. 77477. We are "The Best Little Door House In Texas" for a reason, we fix and replace door problems.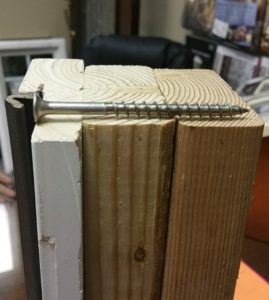 Thresholds
Our Thresholds come in Extruded Aluminum Metal, (Dark Bronze, Silver-Satin Nickel, or Brushed Gold) which come with a rubber door bottom gasket attached to the bottom of your door for sealing out the Texas Heat, Rain, & Cold. Most older Houston area doors from the 1920s-1960s have a wood sub-sill beneath them. If the door jambs are rotted, the sub-sill probably is too.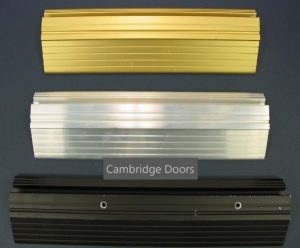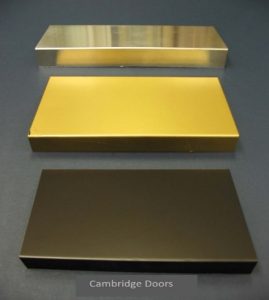 The sub-sill is beveled on one side to drain water away from the house. We recommend installing a sill cover on top to prolong the life span of the wood sub-sill and match it to the new threshold, the wood sub-sill never needs to be painted. It fits tightly between wall studs and under the door frame-jambs and casing, so it has to be cut before it can be removed. In case you have rotten sub-sills, frames, or door slab, we will recommend changing your old door unit out for a new updated look, and much better security.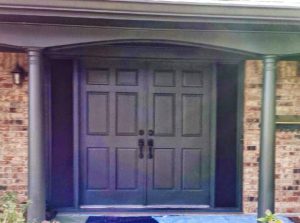 We install special "patented' security strike plates on every single pre-hung door unit we install to prevent door kick-ins. We are a Security Minded Door Replacement Company. We have seen it all over the past 4 decades. We can add new extra heavy-duty entry handle sets, levers, and knobs to your door and add an extra deadbolt above your door handles for much-added security. (Ask us How)
Reasons you may also want to replace an exterior threshold
The old one is ugly, worn out, loose and not attached to the floor any longer, or because new flooring on one side of the doorway calls for it. Installing a new threshold, re-working your old door, new hardware, and sill-covers will take between one to three hours. We will protect your floors with a drop cloth before we begin, and clean up any mess we make and your doors will feel new and operate easily once again.