Replacing your outdated interior doors is one of the best ways to improve the appearance and value of your home. Interior doors play an important role in your home and you'll be amazed at the difference a few quality replacement doors can make.
Upgrade Your Home with Custom Replacement Doors & Interior Room Dividing Doors
While interior doors are usually tiny details in the grand scheme of your entire home, they also add architectural features and a unique style to your house. As something we use every day, interior doors help tie spaces together visually and enhance your homes background appearance and focus.
Replacing interior doors offers many other benefits that you'll want to ensure that you understand before choosing the right interior replacement doors for your home. But first, let's start by discussing the top reasons to replace or upgrade your interior doors.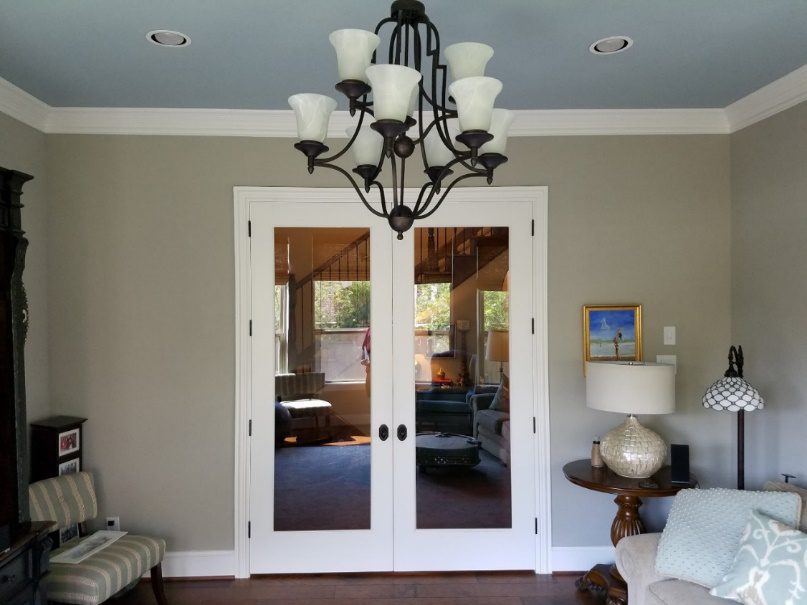 Top Reasons to Replace Interior Doors
A mismatch of styles– Consider replacing or upgrading your interior doors if they're made from different types of materials and painted different colors. If doors in the same area of a home — kitchen, living room, upstairs bedroom, or basement — don't match, the entire space loses unity.
Damaged Doors- It's worth replacing interior doors if they've become damaged or no longer sit properly in their frames. Hollow core-doors are especially vulnerable to damage from bumps and kicks.
Too much draft or noise? – If you can see space between the door and the doorframe, the door should to be replaced. You should never feel a draft around the edges of the door itself and there shouldn't be too much access noise coming from closed doors either.
Thin or Non-Insulated Interior Doors– Some contractors and homeowners use inexpensive materials when initially building a home. If your interior doors are very thin, they may not be insulated and this may pose some issues depending on where the door is within your home.
Not a door in the opening- Do you have a room off the front door with a cased sheetrock opening? (Maybe study, office, or dining) If so, the builder didn't want to spend the money for doors. Just another way for the builder to cut cost! We can make an office, dining room, or game room door unit, and you don't want to be bothered while working from home. If your opening has an arch sheet rocked opening, no problem we can build a new door unit to match your arched opening. See our Gallery.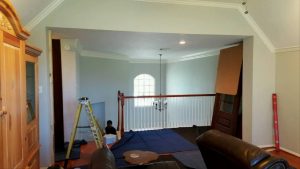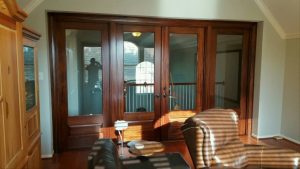 There are various types of interior door materials to choose from. Start your transformation by selecting interior doors made from the following types of material and read about the benefits of each:
Solid Wood Doors- Can be made from a variety of hard and soft woods including cherry, mahogany, alder, maple, pine, poplar and others. The most common solid wood door is the traditional 6-panel fir. These doors can be painted or stained to give a classic look to any home. Wood has superior sound-deafening qualities that keep the noise in or out and depending on wood species may be very heavy, giving the doors a stable feeling.
Engineered Wood Doors– Made from recycled wood fiber. Interior doors made from engineered wood are more stable and durable than wood doors and with a smoother surface for painting than wood. Intricate designs and architectural styling can be achieved with engineered wood and it's much less expensive than other materials.
Bi-fold Door- Like pocket doors, are commonly used in passageways or closets where space is at a premium. Interior bi-fold doors consist of two narrow door panels that are hinged together. Bi-fold doors are available with many kinds of inserts: decorative glass, mirrors, and louvers.
Swinging Doors- Doors like these are often associated with saloons and cafes. They are fun, but avoid installing them in high foot-traffic areas because the constant opening and closing "swinging" compromise the door's durability.
Fire-Resistant Door- Can offer up to a half-hour of protection in the event of a house fire and are a great choice for bedrooms.
Room Dividing Doors- Great for dividing a room, office, media room, or Man Cave area. If you have an opening when the builder didn't put a door where they should have, we can custom build and create a whole new environment for all your needs.
Room Dividing Double Door Units Before & After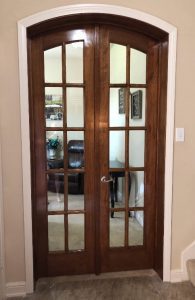 While quality interior doors are important components of your home, ensuring that you select the right replacement doors for your space is vital. From selecting the wood, shape, design, glass, and the right hardware to choosing the right style, consider all your options when looking for new interior doors. Ask our professional. To learn more about the Interior Doors at Cambridge Doors & Windows, please Contact Us at 281-530-8100 or visit our Showroom.