Did you know that as much as half of the energy used in your home goes toward heating and cooling? According to the U.S. Department of Energy, leaky and inefficient windows, skylights and doors account for up to 25% of the average household's energy bills.
Nearly every homeowner can benefit from replacing drafty, inefficient windows and doors with modern energy-efficient products as well as making a few simple updates to your home. If you'd like to reduce the amount energy and money spent on heating and cooling costs, it is essential that your home's windows and doors are energy efficient. To maximize your home's energy and be more efficient, consider the following window and door tips:
Windows
Windows can often be the focal point of a home. They provide views, daylight, ventilation and sometimes insulation. Unfortunately, windows could also account for 10% to 25% of your heating bill by letting heat out.
Most energy efficient windows on the market today are going to incorporate a variety of energy efficient features such as the material, spacers, glass, and glazing, which can all impact the efficiency of a window.
However, the most energy efficient window material is typically fiberglass with 2-3 panes of glass that are separated by energy-efficient spacers, insulating gas and Low-E glass.
The benefits of combing these materials and features into your windows will impact your energy-efficiency by:
Making your home cooler in the Texas summer and warmer in the winter – Since fiberglass frames barley transfer any heat and they expand and contract approximately 800 times less than vinyl windows in extreme heat or cold, energy-efficient windows will make your windows fit more securely year-round, thereby decreasing the amount of air escape and infiltration.
Preventing sun damage – Low-E glass helps to reflect heat and UV radiation from the sun. This will not only keep your home cooler in the summer, it will also keep the furniture and décor in your home from being damaged by the sun.
Lowering your energy costs – Multiple glass panes with two or three layers of glass with insulating gas helps to significantly decrease the amount of heat transfer into and out of your home. This means reducing your homes AC and heating bills by over a third.
Tips to Improve the Energy-Efficiency of Your Windows
Replace aluminum frames – Aluminum window frames let heat transfer very easily. Vinyl frames are much more resistant to heat transfer.
Upgrade your windows to 2-3 panes – Double- or triple-paned argon gas-filled windows are great for keeping the heat in and the cold out (the argon between the glass acts as an incredibly effective insulator).
Tint your windows – Many people are surprised by how much unwanted heat and cold you can keep out by having tinted windows. While you may not think that tinted windows on the front of your house looks very attractive, you can always do it to the back windows.
Use sunlight during the day – When you can, try to leave the lights off and let some sun in to naturally light your home. Remember, sunlight is free!
Doors
While windows attract most of the attention when it comes to energy efficiency, doors can play a major role in the energy-efficiency of your home too. Since doors not only have to open and close smoothly and easily, they also have to seal tightly to keep out drafts, and have at least some insulation to keep cold at bay.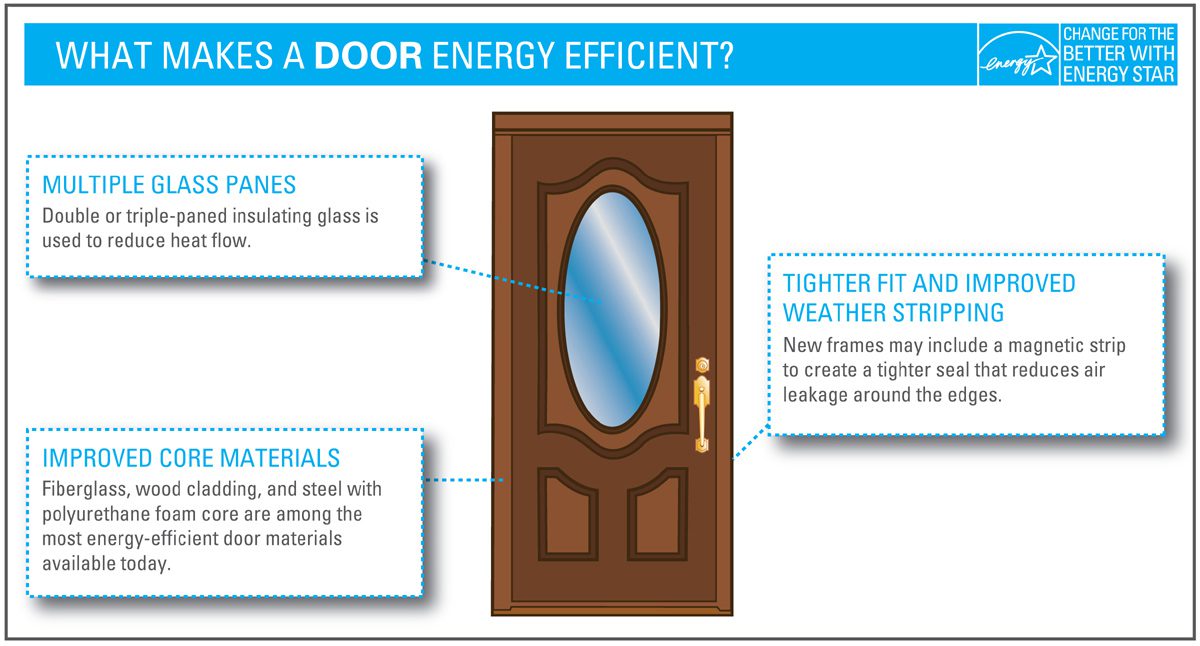 Benefits of Energy Efficient Doors
Protect your home – Special glass panes can be used to keep out the damaging UV rays from the sun and reduce heat flow.
Eliminate drafts – Keep warm air in and your family healthy during the colder months.
Save money – Energy efficient doors can help you save up to 15% on your energy bills through effective door insulation.
Tips to Improve the Energy-Efficiency of Your Doors
Check the exterior doors – A home's front entry door, patio door (or any other door leading outside) can play a vital role as one of the first lines of defense against the elements. If a door does not close properly or lets in a draft, a homeowner's utility bills can pay the price. Homeowners should check the weather-stripping and any gaps around the door that can let heat escape. If these features cannot be easily fixed, it may be time to replace the door.
Consider the material of your door – Although many people choose wood doors for their beauty, insulated steel and fiberglass doors are more energy-efficient.
Look for these distinguishing features when selecting an energy-efficient door – Look for doors made from fiberglass or painted steel and filled with a core of polyurethane foam. Also, doors sealed with a magnetic strip similar to refrigerator doors are typically more energy-efficient.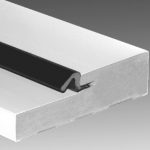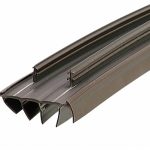 Effective Installation Makes All the Difference
Ultimately, no matter how energy efficient the window or door replacement products you choose for your home, a poorly installed window or door could actually waste more energy and money in the long run. Let the window and door professionals at Cambridge Doors & Windows walk you through our extensive selection of energy efficient windows and doors and help you find the right products that fit your home's décor and your budget. Please contact us today at 281-530-8100 to schedule a free in-home estimate for your energy-efficient windows and doors or visit our showroom.