Many homeowners place great importance on having doors that are durable and can withstand any natural phenomena safety concern while producing a significant presence, design-wise. The same can be said for windows and other home improvement products. There is a considerable amount of homeowners that don't take into consideration the hardware used for the front or rear door. The fixtures used can come in a diverse range, where customers can choose designs and materials that will best demonstrate the style and essence of their home. Most importantly, the hardware that Cambridge uses is strong enough to withstand any concern regarding possible home intruders.
From entry sets to deadbolts, we have the hardware necessary to make the front or rear door of your home stylish yet secure.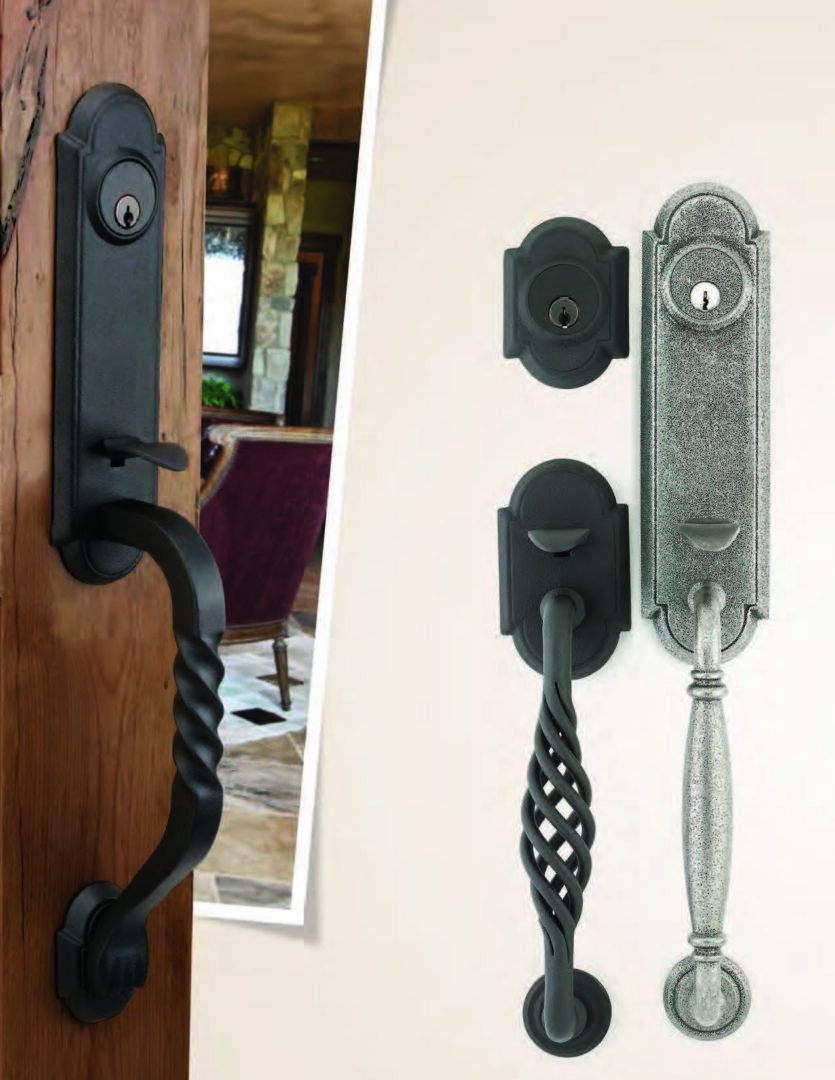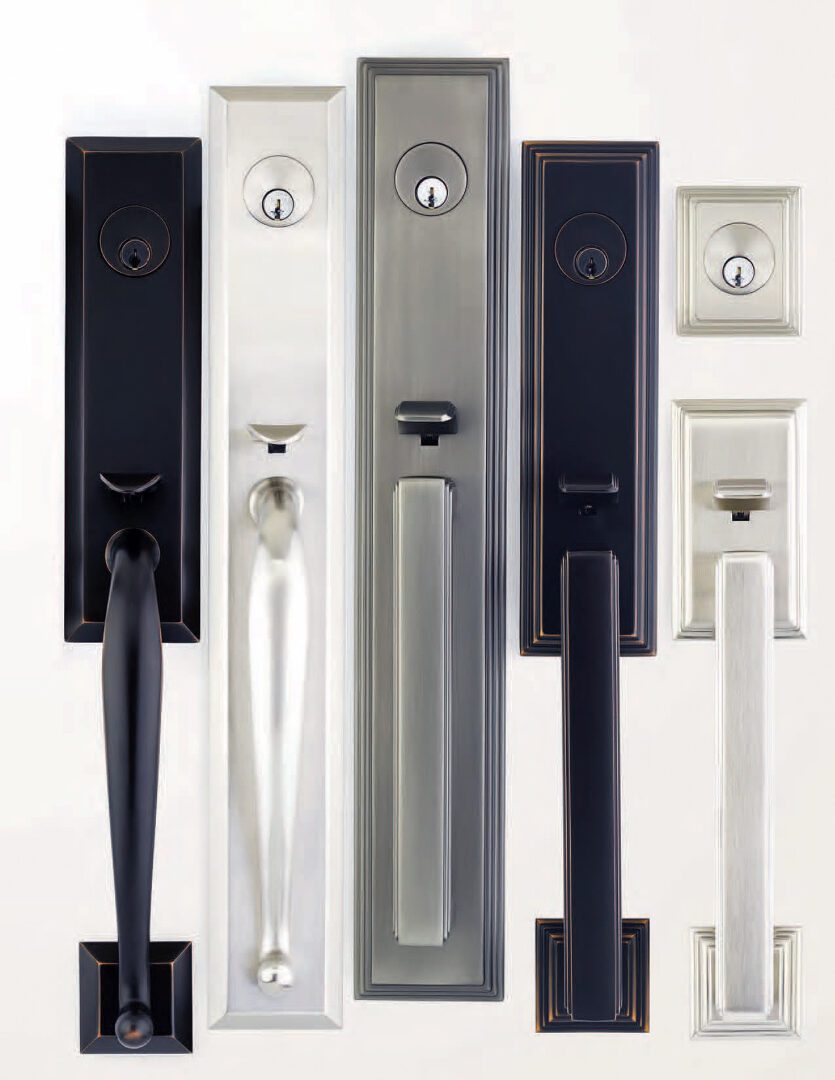 Entrysets:
We have three different varieties of entry sets. They are solid brass, mortise, and wrought steel. Solid brass entry sets provide a dramatic visual statement, perfect for the individuals who would like to display a significant amount of style through their front or rear door. Solid brass styles are available in the PVD-Lifetime finish, Pewter, Satin Nickel, Oil Rubbed Bronze, Polished Chrome, and Antique Brass. Mortise entry sets provide a distinguished appearance, appropriate for luxury homes. Handing is required for all mortise locks. Wrought steel entry sets designed elements have rustic components. Wrought steel styles are available in Satin Steel, Flatback, and Rust finishes
Handlesets:
If you would like for your front or rear door to have classic yet uniquely American design elements that exude strength in a calm and confident manner, no look further than to Emtek handlesets. All of our handlesets come in various styles and finishes to perfectly complement your home. Cambridge Doors' selection of Emtek handlesets are sure to be a showpiece setting the tone when a guest enters your home.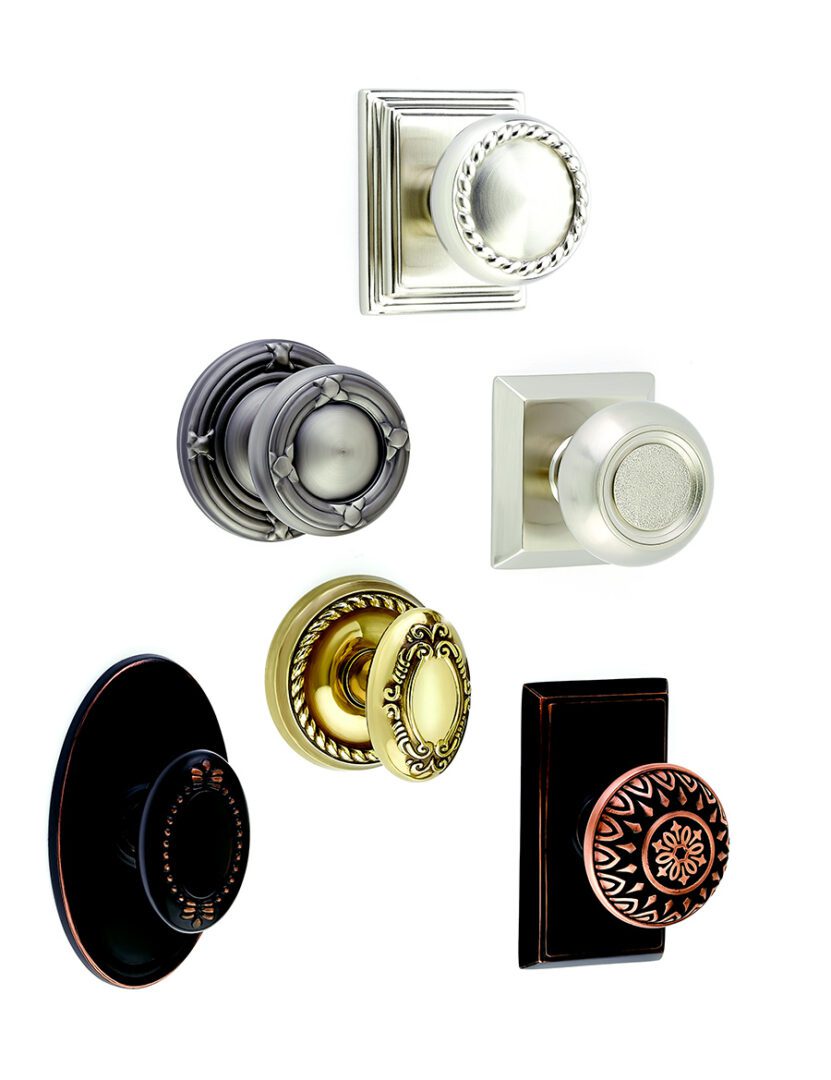 Knobsets:
We have a considerable range of knob sets available to consumers. Cambridge has traditionally styled knob sets for individuals who have a practical sense of style and would like to emphasize on the functionality of the product. For Key in Knob products, we have Key in Egg knob set, Key in Providence knob set, and Key in Waverly knobset. All of these knob sets come in different finishes as well. For individuals looking for knob sets with individuality and stylistic elements, we have brass knob sets that come in various classic features such as Lancaster knobs and Ribbon & Reed knobs, to compliment your home's style.
Leversets:
Do you prefer a different form of handle? Many handles today come in the form of a leversets. These handles tend to provide a more contemporary look to not only a door, but the home as well. If you're simply looking for something different from a knobset, consider adding a lever handle to your front or rear door. We have a Key in Cortina leverset with a pewter finish, as well as a Key in Cortina leverset with a polished chrome finish. We also have bronze lever sets as well, and they include Durango levers with a light bronze or light silver patina finish, as well as a Tuscany Napoli lever with a medium bronze finish.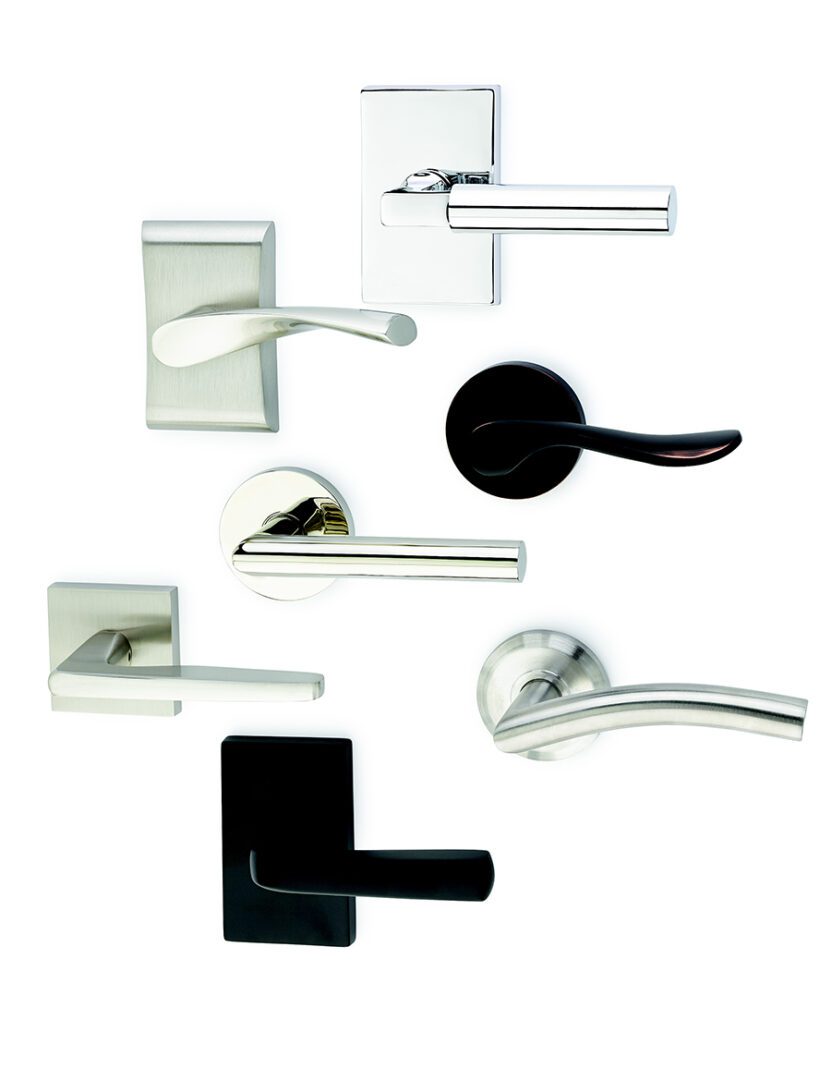 Side Plates:
Are you looking to have a deadbolt but would also like to incorporate a lever. Look no further than to a side plate. A side plate can provide elements of style that will complement your home's essence. Deadbolts are primarily focused on delivering functionality, while a side plate can provide both functionality and a distinct style. If you would like to incorporate a side plate to your home's door(s), don't hesitate in contacting Cambridge.
Deadbolts:
Handles are not needed here! We can provide customers deadbolts in different styles and designs. They include regular styles such as Satin Nickel finish, Polished Chrome finish, and Pewter finish. Sandcast Bronze deadbolts come in the form of a dark bronze finish, light bronze finish, as well as a silver patina finish. Wrought steel deadbolts that Cambridge has come in a satin Steel Finish, Rust finish and Flat Black finish. Deadbolts exude security. This is undoubtedly why deadbolts have gained so much prominence over the years. Consider incorporating deadbolts to your front or rear door of your home.
Are you thinking about giving your front or rear door some of your home's personality while adding security and strength? Check out some of the hardware that Cambridge can provide for your home, here:
Contact Us about Your Project