Get Started
1st. MAKE THE CALL.
Give us a phone call to fill us in on the details for your new custom door unit. Are you replacing an old entry door slab, double doors, or door
& sidelights? Or interior room dividing doors between the entry way and an office? Or where one did not previously exist?
2nd. SEND US A PHOTO OF YOUR EXISTING DOOR
Send us a photo of your existing door opening, entryway or new area where you want one so we can see what we'll be working with. Do you have a cased opening between a room, game room, or office where the builder never put one?  Now you can install that room dividing door that you always wanted. We can create arched, eyebrow, rounded, or square top doors, sidelights, transoms, and door frames to meet your needs.
Actual Customers Photos Custom Made Wood Door
3rd. The Estimate
We'll provide you a detailed estimate for design, style, material types, and workmanship, so we can begin creating your custom door unit of your dreams! We design, build, stain-finish, & install, we are a ONE STOP SHOP. From your dream design to reality.
Designing of The Door

1st. THE DESIGN
We create original new CAD design drawings, unique designs for each door made to fit our customer's needs. Whether you're looking for sophisticated design, Traditional Door, Craftsman Style Door, Modern Door design or a touch the Rustic look, we know you'll love your new Entry Door, Sidelights, Transom, Dutch Door, Wine Room Door, Patio Door, or Room Dividing Door, Office Doors etc. for many years along with adding resale to your home, lake house, ranch house, or business.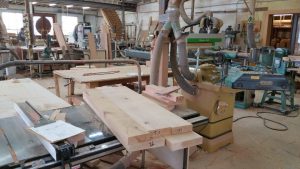 2nd. CUSTOMIZATION
Each door is created by hand for total customization to fit each customer's desire and needs from wood species, door styles, panels, molding, glass options, and wrought iron designs. We build doors for Homes, Ranches, Lake Homes, Beach Houses, Banks, Offices, Restaurants, Board Rooms, Man Caves, Media Rooms, & Game Rooms. We build doors, frames, millwork trim, casing, custom exterior shutters, louvers, etc.
3rd. Designed & Built to Last a Lifetime
Our high-density solid hardwood doors are designed & built for the tough Texas Weather with top-notch quality and craftsmanship in each door unit we build. Texas Made with Texas Pride!
We get Buildng!
1st. Door Production
Custom Door Types
Custom made solid wood doors, side light, & Transom: Custom Entry Doors, Office Doors, Dutch doors, Room Dividing Doors, Office Doors, French Doors, Beveled Leaded Glass Wood Doors, Louvered Wood Doors, Arched Doors, True Dividing Light Doors, Security Doors, 2-1/4" Thick Doors, Sidelights,
Custom Trim, Molding & Millwork.
We use only the finest hand-selected solid wood materials if each door, frame, trim, and casing we build. No one puts all the effort in a door like we do here at Cambridge Doors & Windows so you can smile every time you come home. We build with solid wood materials: African Mahogany, Walnut, Cherry, Maple, Clear Alder, Knotty Alder, Sapele, Clear Fir, & Poplar.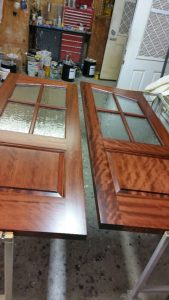 2nd. THE DOOR TEST
We test each and every door unit to ensure its quality before staining, and our in-house installation begins.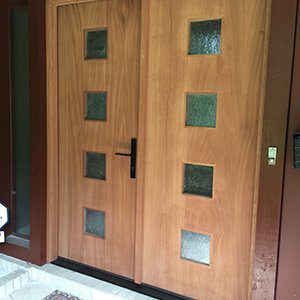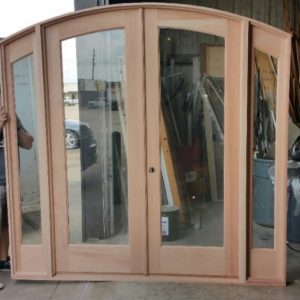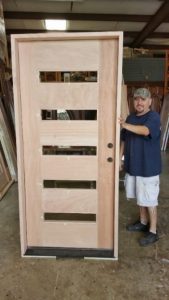 3rd. Best Quality of Custom Doors in Texas
Our doors have been proven over 4 decades in the door-window, and the building business. Our solid African Wood Mahogany Doors are known to have with stand Hurricane Harvey flood waters for over 4-1/2 days without any damage other than cleaning the debris off the doors and frames with 409.
INSTALLATION PROCESS OF NEW DOORS
1st.  SITE PREP
Our installation team will arrive on the jobsite and prepare the site to remove the old door or door unit and install the new one. We put down floor protection, secure the area, and vacuum up any fallen debris as were installing the doors to keep the job site clean. Clean up and dispose of old doors and debris.
2nd. DOOR REMOVAL & INSTALLATION
We'll remove your old door and any trim materials that need to be replaced or adjusted. Rewire the door bell and alarm door contact when need. Then, we'll install your new custom door, frame, trim, molding etc.
3rd. Clean-Up & Disposal of Old Door & Debris
We'll clean the area and dispose of materials & waste created by the removal and installation process. We donate the old doors so the can be re purposed, help save the landfills and be Green at the same time or you can keep them to give away. One man's junk is another man's treasure. We also scrap all the old handle sets, deadbolts, thresholds, and hinges and donate the proceeds to various charities. We want to help the environment one door at a time. We leave your home or business cleaner thsn we found it.
To get started with your custom door project contact us today!