Bevel King Collections
(Click image to see full collection)
Entry Configurations
The configurations for entryways that Cambridge is able to offer is based on the most popular standard sizes. These doors are either 6 foot, 8 inches tall or 8 feet, 0 inches tall. We are able to offer matching sidelights and transoms as well. Some of the shapes and sizes that we are able to provide homeowners, through transoms, for example, come in a considerable range. They include half-round, half circle, elliptical, and rectangular transoms. The most important feature about our entry configurations is that we are able to build your door in whichever measurements that will best fit your home. The configurations that we have mentioned are certainly the most prominent, but we are also able to create doors exclusively for the shape and size of your entry. Every home is different, and because of this, it is our responsibility to create doors that have the exact configurations that are able to complement your home to the fullest extent.
Learn More about Entryway Configurations
Features of Wood Entry Doors
There are certain features that are able to complement your wood door. These include glass and wrought iron grills.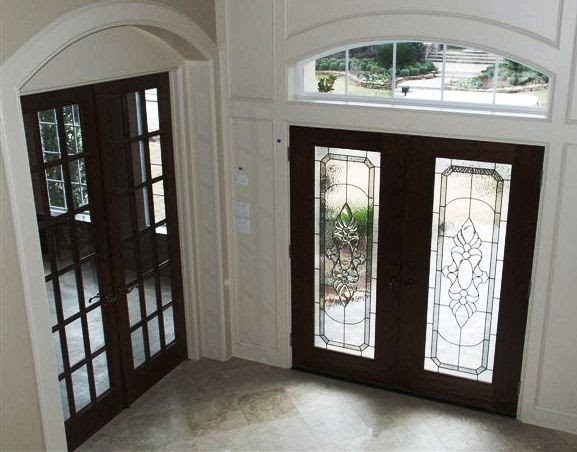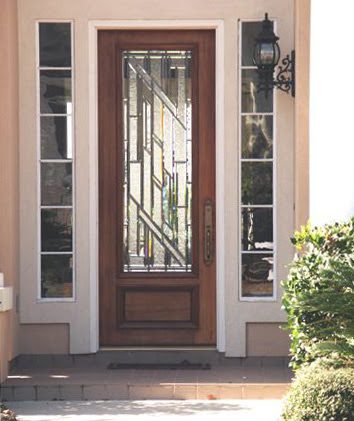 Glass
If you are looking to add distinguishing features on your wood door, consider incorporating glass panels. Wood doors already have a certain distinction that can complement any entryway, but if you would like to add shine, designs and any form of embellishment, glass panels are an exceptional option that Cambridge can provide to homeowners. We are able to provide to consumers with three distinct glass panel options. They are Fully Beveled Glass Panels, Bevel Cluster Glass Panels, and lastly, Stained Glass Panels. Each of these classes of glass panels offers unique qualities in order to accommodate the varied design tastes of consumers. If you decide to incorporate glass panels, you will be able to create designs that will showcase your personal style and will significantly help increase the appearance of your wood door.
If you would like to incorporate your personal design preferences, or would simply like to enhance the appearance of your door, consider incorporating glass panels into your entry. We have a considerable range of glass design options for homeowners. Click here to see glass panel options from Cambridge.
Wrought Iron + Wood
Wrought Iron is a form of material that is malleable. The iron can be shaped into various forms, which can create artistic and unique designs that can complement almost any door. This certainly can apply to wood doors. The distinction, visual quality that can be added to an entry door can not only enhance the appearance of your entryway, but it certainly helps enhance the design elements of an entire residence. Cambridge is proud to offer a great range of wrought iron grill designs that can satisfy even the most particular design preferences. We offer many grill designs for you to choose from.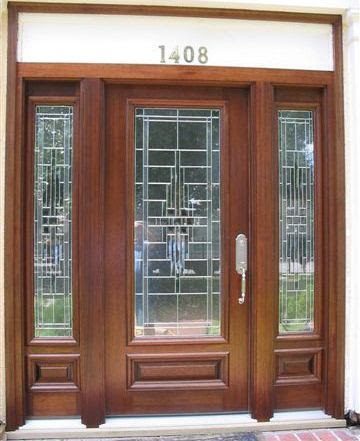 Wood Types
What makes wood such fantastic material? One of the most important elements of wood is its appearance. They come in different textures, shades and individuals can choose from a considerable range of material. Traditionally speaking, woods are separated into two groups. They are hardwoods and softwoods. Within the hardwoods group, we carry African Mahogany, Maple, Hickory, Knotty Alder, Walnut, and Cherry. When it comes to softwoods, we carry Fir and Pine wood. All of these woods are able to serve a specific purpose for each area of the home. When it comes to hardwood, the material that comes from this group is best able to create items that will help complement the appearance of the home.
At Cambridge, we are able to effectively use a certain hardwood that will help homeowners improve the appearance of their entryways. Mahogany is the type of wood that is best equipped to help enhance the appearance of any door, especially if these doors are located in the entryway of your home. The benefits of Mahogany are plentiful, but perhaps one of the most significant reasons as to why Mahogany is so popular among consumers is its beautiful appearance. Mahogany can vary in its appearance, from a red-brown to a deep red. The visual presentation that Mahogany wood can evoke has a positive effect on consumers. It is no surprise that this wood is by far one the most popular.
Cambridge Doors and Windows will able to create and install exceptional Mahogany doors that will complement not only your entryway but the overall appearance of your home. We are also able to work efficiently with other hardwoods, including Alder.
Request a consultation and free estimate today!
Questions, Need to Get a Quote, or Ready to Schedule a Consult?
If you would like to incorporate wood material to your entry or door, consider our Bevel King and Glass Craft wood options. We are able to produce wood doors that will help create the sophistication and style you have always desired for your property's entryway.
Contact Us about Your Project