ADA Compliance & Handicap Residential Doors
Cambridge Doors can be manufactured to meet ADA requirements and guidelines. The information below has been compiled to provide an overview of primary ADA requirements for residential doors in the Houston & Fort Bend Area. We can install new ADA Handicap doors, trim, and hardware to fit your needs. We carry all different sizes and styles to meet all your ADA door needs.
ADA Requirements Overview:
Width and Height Requirements:
By ADA standards, the clear width of a door opening must be a minimum of 32 inches and a maximum of 48 inches. This clear width measurement is taken between the face of the door and the stop of the frame with the door open to 90 degrees (Figure A).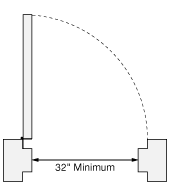 Requirements Regarding Door Surface:
If there are any projections on the face of the door, they must be no lower than 34 inches above the floor or ground and must not extend more than 4 inches from the surface of the door (Figure C).
Door surfaces within 10 inches of the floor or ground must be a smooth surface on the push side extending the full width of the door. Any parts creating a horizontal or vertical joint on the surface shall be within 1⁄16 inch in depth.
Bathroom Remodeling
Your bathroom can be modified or redesigned for walker and wheelchair access. Modifications to the bathroom will help avoid injury and is our most requested service. We can build any size door to fit your needs.
Let's start at the bathroom door. Why do architects design, and builders insist on installing a 24" door to the bathroom? Wheelchairs need a minimum 32" door for a straight-in approach. If the doorway is located in the typical hallway and requires turning a wheelchair, you'll need a 36" door.
Doors that do not meet ADA minimum width requirements can be widened for wheelchair and walker access. Remove the existing door unit and trim. May have to relocate the light switch. Cut out the wallboard to accommodate the wider door. Cut out the studs to widen the framed opening. Depending on the door size it may be possible just to remove the cripple studs. Install a new wider door unit and trim. Paint all new work and repair the finished flooring. You'll need flooring material to match.
Many times, we find a door that can only open 90 degrees because it opens against a wall. This leaves the door end still in the frame opening.
Wheel Chair Won't Fit Through Door
The correct size for a wheelchair user to be able to comfortably fit through a doorway is 32 inches wide. Commonly, doorways are measured at about 23 to 27 inches; this would not be wide enough for a user to fit through.
Handles, pulls, locks and latches
Handles, pulls, latches, locks and other operating devices on accessible doors must have a shape that is easy to grasp with one hand and does not require tight grasping, tight pinching, or twisting of the wrist to operate.
Lever-operated mechanisms, push-type mechanisms, and U-shaped handles are acceptable designs.
When sliding doors are fully open, the operating hardware must still be exposed and usable from both sides.
Hardware must be mounted no higher than 48 inches above the finished floor.
Thresholds
Thresholds, if provided at a doorway, must not exceed 3⁄4 inch in height for exterior sliding doors or 1⁄2 inch for other types of doors.
Changes in level up to 1⁄4 inch can be vertical and do not need an edge treatment.
Changes in level between 1⁄4 inch and 1⁄2 inch must have a beveled slope equaling 1:2.
If the changes in level are greater than 1⁄2 inch, the threshold must be equipped with a ramp. The floor or ground surface within the maneuvering clearances at the doorway must not have a slope steeper than 1:48.