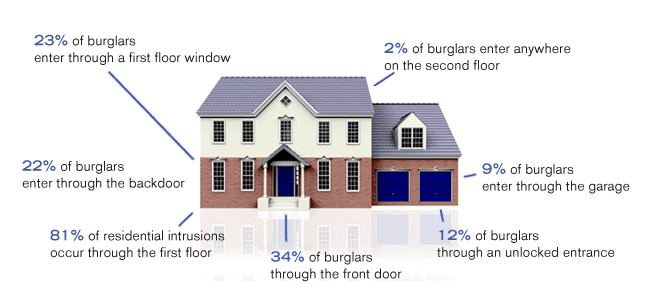 No matter how solid your door or window is, it's ultimately only as strong as its heavy metal & glass. Here are a few glass & hardware upgrades to consider if you want to beef up your home's security from Cambridge Doors & Windows.
Heavy-duty dead bolts. A dead bolt is a low-cost, high-value addition to your security system. Varieties include double-cylinder dead bolts, which are keyed on both sides, and single-cylinder dead bolts, keyed on one side. Whichever type you choose, make sure it has a grade 1 security rating, and follow the next suggestion below to connect it securely and solidly to the frame.
Striker plates. A strike plate toughens up your entry and deters intruders by replacing existing strike plates with a structure that includes a metal pocket, over-sized plates, and a solid connection into the wall stud behind the doorjamb with 3" to 4"screws. This is a standard feature on all our prehung door units.
Door slab reinforcement plates. Three-sided metal reinforcement plates add an extra layer of security by encasing a door around its handset or dead bolt keeping the door from splitting during a kick in.
Wide-angle 190-degree peephole. You'll be able to do a larger scale screening of unexpected visitors with our 190-degree wide-angle peephole viewer and is designed to fit any door up to 2 inches thick.
Security hurricane impact safety glass. We carry a full line of replacement windows, patio french – gliding patio doors, & front entry doors with hurricane impact security glass that is Hurricane Impact rated for the Texas Gulf Coast area and Wind Storm Rated. So, if you live in Galveston on the beach or in the middle of Houston, our doors & windows are designed to keep out 150 mph winds and home invaders from breaking out your door and windows. Cambridge Doors & Windows is a pioneer in security doors and windows since the early 1980'S after Hurricane Alicia.
*If your considering window or door replacements or building or remodeling a new home, beach house, or a place in the country, call us today 281-530-8100 or visit our Showroom to learn more about making your home safe-secure, energy efficient, and maintenance free.
Our Products Include:
Custom Wood Entry Doors, French-Patio Doors, Designer Door Glass, Wrought Iron & Wood Entry Doors, Security Storm Doors, No Rot Door Frames & Exterior Trim, Vinyl, Aluminum, Fiberglass Windows, Security & Hurricane Windows & Doors, Custom Wood Room Dividing Doors, Custom Wood Millwork, Designer Entry Hardware, Beveled Lead Glass – Hurricane Glass. Complete in-House Professional Installation Team. Staining Department. Same address & phone number for over 33+ years. A+ Rated with Angie's List & BBB Houston. Angie's List 2015, 2016, & 2017 Super Service Award Winner.
"The Best Little Door House in Texas"