The Door
Frame – The weakest part
Your Hardware – know the difference
The strength of your door plays an important part in securing your entryway.
If you read this far, you know fiberglass doors are much stronger than laminated engineered wood doors, without the drawbacks.
Yet: Even with fiberglass doors, there will be quality differences.
To make a point: A cheaply made Builders Grade fiberglass entry door is not advisable for any reason. Particularly security purposes. Builders grade doors are not made to last, and there is no value of security when it comes to Box Store or Builder Grade doors.
That Said: The other two factors you must consider are the door jambs-frames in which the door is "attached too". As well as the hardware you choose to complement your door.
Your door will only be as strong as the weakest of those choices. We've discussed the strength of fiberglass doors, now let's talk about the door jamb-frame.
Door Jambs-Frames and Home Security
The weakest part of a door system is the door jamb-frame. Think about it. Here's what it looks like: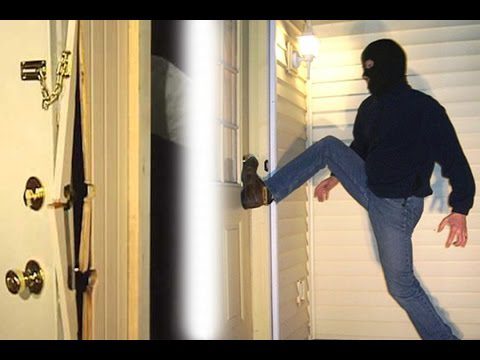 High quality fiberglass doors are quite strong.
Yet, the entryway strength depends on its framework.
You may wonder:
"Aren't fiberglass door frames stronger than wood?"
Yes, they can be.
Fiberglass doors are installed in frames/jambs that are made of wood or PVC composite material.
If it's the latter, then the door has extra reinforcement and rigidity.
Composite Door jambs have twice the screw holding power of wood door jambs-frames.
The more of this material the better the overall strength of the door.
The bad news?
Unfortunately, the door frames are still the weak link when it comes to entry door security.
So, how do we overcome this weak part?
We install a security striker plate-brackets on every pre-hung door to reinforce the vulnerable strike plate area.